Wire Form Springs
Spring Series, Torsion Springs, Tension Springs
Wire Form Springs are used in a wide range of industrial and commercial products, from automotive and electronics to hardware and fasteners to power tools and equipment. They vary in style, size and material, depending on the intended use case. While standard parts are readily available on the market, some manufacturers offer custom features for customers with highly specific or unique requirements.
At
Huilida
, we offer both standard and custom Wire Form Springs manufacturing capabilities. We are a wire form springs manufacturers with over 15 years of industry experience our team has the knowledge, skills and tools to produce quality springs and wire that meet some of the most complex and unusual design specifications.
Overview of Wire Form Springs
As mentioned above, Wire Form Springs come in a variety of variants to suit different applications. Some of the industries that use them frequently include
Aerospace
Agriculture
Construction
Electrical and electronics
HVAC
Injection Molding
Medical
Petroleum
Pharmaceutical
Valves
Design Considerations for Wire Form Springs
Springs are devices designed to store mechanical energy for applications requiring compressive, tensile or torsional forces. While they are commonly thought of as cylindrical coiled forms, they come in many other shapes, such as barrel-shaped (wider in the middle than at the ends), conical (wider at one end and narrower at the other), and hourglass (narrower) in the middle than at the ends). Variable pitch designs - with springs of variable wire thickness - are also available.
Some of the most popular spring styles are
Belleville springs: Disc springs - also known as conical disc springs and conical spring washers - are designed to apply tension and flatten under a set load
Clock springs: Spiral band springs typically used in clock mechanisms
Compression springs: Springs designed to shorten when a load is applied
Extension Springs: Springs - also known as extension springs - designed to stretch when a load is applied
Torsion and double torsion springs: springs designed to twist when a load is applied
In addition to these standard designs, special and custom springs can be manufactured for more demanding applications.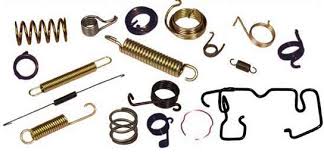 Design considerations for Wire Form Springs
Wire forms is an umbrella term that covers a wide range of parts and products (including springs), from wire forms and molding to specific designs. Wire-formed springs have custom ends for easy assembly into the intended equipment to ensure proper energy transfer and storage.
Wire Form Springs Manufacturing Process
Wire Form Springs are manufactured using wire forming machines. These machines gradually shape the wire and form it into the desired design by bending it around a mechanical tool. Wire forming operations can be controlled manually or by computer numerical control (CNC) equipment, depending on the required precision and accuracy. In addition to forming, other manufacturing processes such as cold heading, 3D bending, spot welding, stamping and finishing can be used in the production of springs and wire to ensure that the resulting part meets the requirements.
Some of the most commonly used metals for making Wire Form Springs are
Aluminum
brass
Copper
Hastelloy
Chromium-nickel-iron alloys
Steel and steel alloys
Titanium
Wire Form Springs Capabilities At RUIAN HUILIDA METAL PRODUCTS. We have extensive experience in the design and manufacture of springs and wire. In addition to compression, extension, torsion/double torsion, bevelled springs and clock springs, we also manufacture custom shaped wire. Our capabilities include.
Wire sizes: 0.006 to 0.472 inches
Coil direction: left and right
Internal finishing: powder coating, color coding, edge grinding, shot peening, strain relief and tumbling
Outsourced finishing: anodizing, electrolytic polishing, enameling, galvanizing, heat treating, painting, passivating and plating
Value-added services: assembly, deburring, plating, trimming
For more information on our spring and wire fabrication services, please
contact us
today.
Enable Ginger
Cannot connect to Ginger Check your internet connection
or reload the browser
Disable in this text field
Rephrase
Rephrase current sentence
Edit in Ginger
Enable Ginger
Cannot connect to Ginger Check your internet connection
or reload the browser
Disable in this text field
Rephrase
Rephrase current sentence
Edit in Ginger
Enable Ginger
Cannot connect to Ginger Check your internet connection
or reload the browser
Disable in this text field
Rephrase
Rephrase current sentence
Edit in Ginger